John-Henry Enterprises, Inc. is always looking to partner with self-starters and motivated individuals .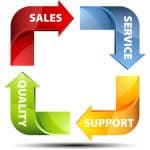 Sales Opportunities
Any individual with the desire and ability to communicate effectively, solve problems, and develop new relationships is a perfect candidate to help us complete our mission and make money in the process.  An applicant does not need chemical and equipment sales experience to apply, although a background in these types of sales is a plus. It takes a certain talent to analyze and evaluate customer's needs, but candidates with this talent along with the willingness to learn and a strong work ethic generally succeed. The opportunities for both men and women are excellent.
Please e-mail your resume to John-Henry at bronwyn@john-henry.com or mail:
John-Henry Enterprises, Inc.
2813 Richland Ave.
Metairie, LA  70002
or FAX: 504-888-0955
More Job Opportunities
John-Henry Enterprises, Inc. is always seeking qualified applicants, especially those with mechanical skills to perform in-house or on-site repairs.
Benefits at John-Henry include 100% employer paid individual group health insurance and life insurance.   After one year of service, a 401 (k) plan is available with John-Henry matching 50% of deferrals, up to 1.5% of total annual compensation; and a Section 125 Flexible Spending Account is available for those that participate.
Please e-mail your resume to us at John-Henry at bronwyn@john-henry.com or mail:
John-Henry Enterprises, Inc.
2813 Richland Ave.
Metairie, LA  70002
or FAX: 504-888-0955